Two Wells Fargo & Co. Express trucks meet a Southern Pacific American Railway Express boxcar to load and unload freight and mail at the 1887 SPRR Saugus Depot in 1919.
No written information accompanies this photograph, so all we know is what we see in the photo, which is plenty.
A few clues tell us it's the Saugus depot. First, the building is correct. But that's not enough. The Saugus depot was a cookie-cutter structure built from one of a few sets of standardized construction drawings. It had sisters. But second, the trees are correct, when compared to known Saugus depot photos from the period. Third, the placement of the small "Wells Fargo & Co. Express" sign on the building is correct (only "Co. Express" is visible). Fourth, this photo has been stored with a grouping of known Saugus depot photos.
As for the date, a few things.
The trucks are of a type used by Wells Fargo Express from about 1913 to the end of the decade. They have no hood ornament, which makes identification difficult, and they appear to have no headlights other than those mounted next to the windshield, which we can't explain.
The advertisement on the side of each truck provides a clue. The American Red Cross launched a campaign in 1916 to boost its membership to 1 million members nationwide. By the time America entered the war in 1917, Wells Fargo had joined the effort, enrolling its employees in first-aid classes and encouraging them to join the Red Cross. At the end of 1917, Wells Fargo started advertising the American Red Cross membership drive on the sides of its wagons and trucks. Although not too legible, the advertisements seen here appear to be part of that effort. (Note that wartime campaigns didn't magically stop with the signing of the armistice at 11 a.m. on Nov. 11, 1918. Things like the draft, war bond sales and Red Cross recruitment carried over into 1919.)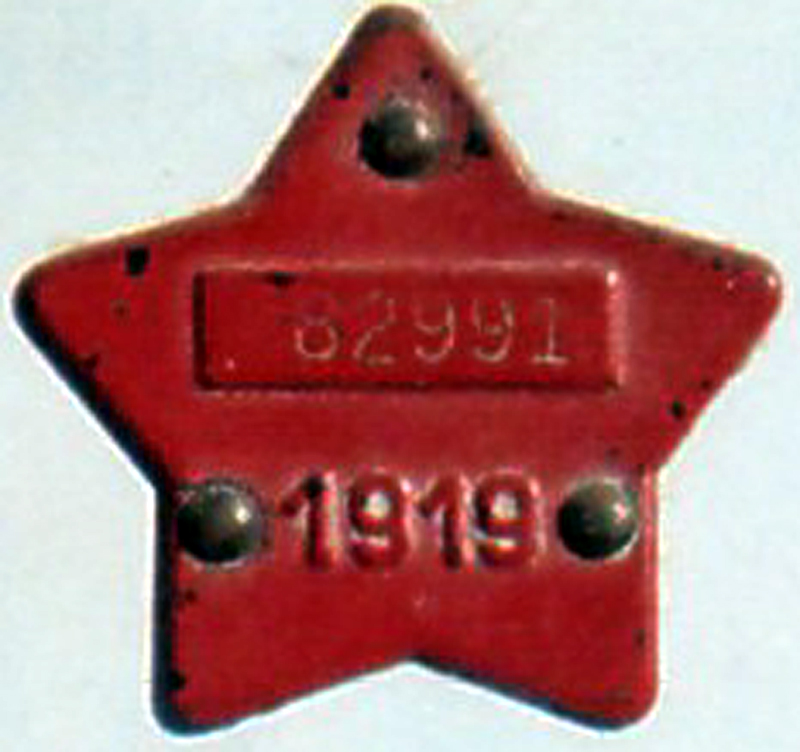 porcelainplates.net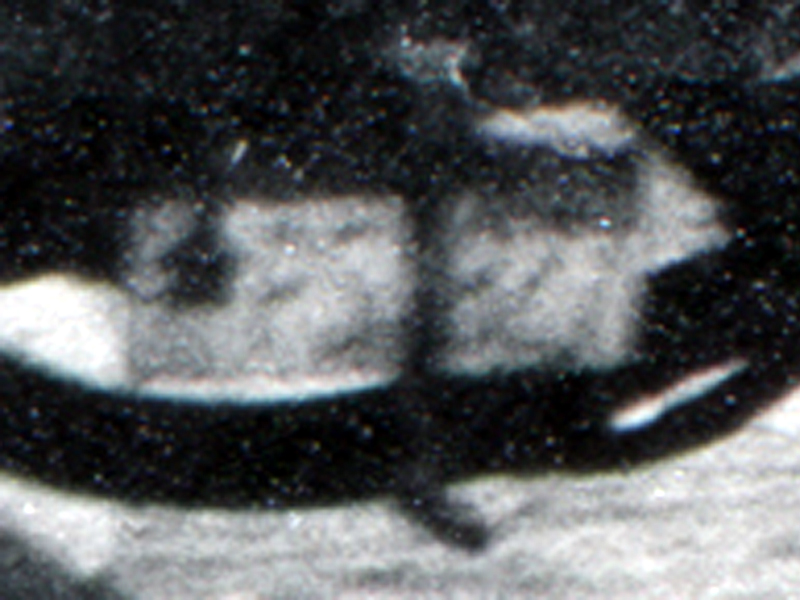 But the most telling clue is the porcelain license plate and more specifically the license plate tag on the truck at left. Plate No. 25827 was part of a grouping of license plates (Nos. 15000 to 30000) that were distributed in the Sacramento area in 1916. (That's probably the date of the truck, too.) From 1916 to 1919, the state issued metal tags, or tabs, to show registration for the year. The 1916 tag was a lead (uncolored) bear, 1917 was a yellow poppy, 1918 was a green bell, and 1919 was a red star. This license plate displays the star.
In 1920, California switched to embossed metal license plates.
From 1887 to 1980, the Saugus depot stood at the southeast corner of Bouquet Canyon (San Fernando) Road and Drayton Street ... in Saugus. In 1980 it was moved to William S. Hart park in Newhall where it became the headquarters of the Santa Clarita Valley Historical Society.