Webmaster's note.
From Local historian Stan Walker:
On April 28, 1888, Christopher Leaming suffered an apparent stroke which would lead to his death a week and a half later.
Los Angeles County voter registration entries give birthdates between May 30 and July 26, 1829, and a birthplace of New Jersey. (The 1850 U.S. Census gives a calculated birth year of 1827 and lists a home address of Middle, Cape May, N.J.) His parents are Humphrey Leaming, 1780-1852, and Mary Polly Stites, 1785-1839.
According to his obituary, Christopher Leaming came to California in 1849 (although again, the 1850 Census shows him living in New Jersey as of Jan. 1). He was commissioned a Notary Public by at least 1862 (Sacramento Daily Union Oct. 10, 1862). When the San Fernando Petroleum Mining District was formed in 1865, Leaming became its first recorder. He remained in that position until his death in 1888. Leaming was also appointed the first postmaster of Petroleopolis (the future Lyon's Station) on April 1, 1867, and held tht post until Nov. 21, 1867. He filed a claim for a 160-acre homestead in 1865 in what is now called Leaming Canyon, situated between Wiley and Rice Canyons southwest of Newhall. Dr. Vincent Gelcich bought the claim in 1872. There is no evidence Leaming ever married.
He died Wednesday, May 9, 1888, in Newhall.
---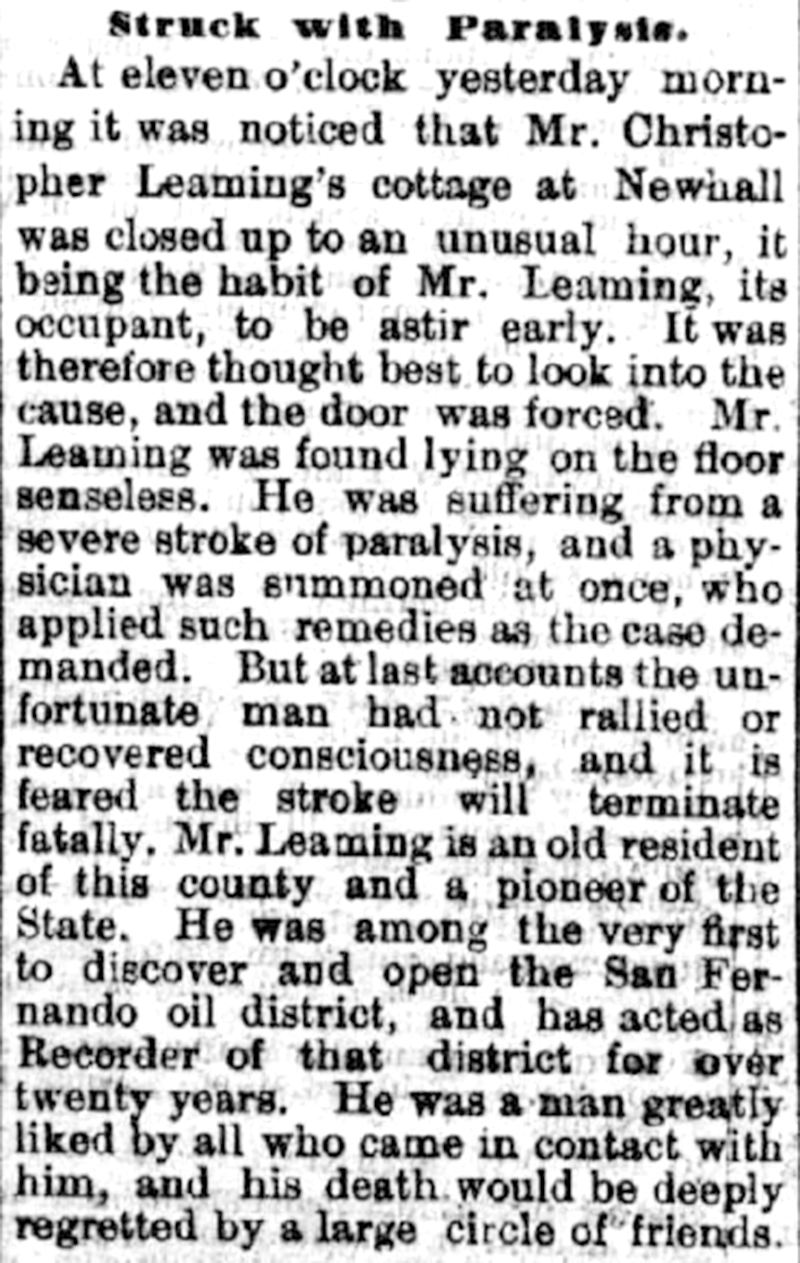 Click to enlarge.
Struck with Paralysis.
Los Angeles Herald | Sunday, April 29, 1888.
At eleven o'clock yesterday morning it was noticed that Mr. Christopher Leaming's cottage at Newhall was closed up to an unusual hour, it being the habit of Mr. Leaming, its occupant, to be astir early. It was therefore thought best to look into the cause, and the door was forced. Mr. Leaming was found lying on the floor senseless. He was suffering from a severe stroke of paralysis, and a physician was summoned at once, who applied such remedies as the case demanded. But at last accounts the unfortunate man had not rallied or recovered consciousness, and it is feared the stroke will terminate fatally.
Mr. Leaming is an old resident of this county and a pioneer of the State. He was among the very first to discover and open the San Fernando oil district, and has acted as Recorder of that district for over twenty years. He was a man greatly liked by all who came in contact with him, and his death would be deeply regretted by a large circle of friends.
---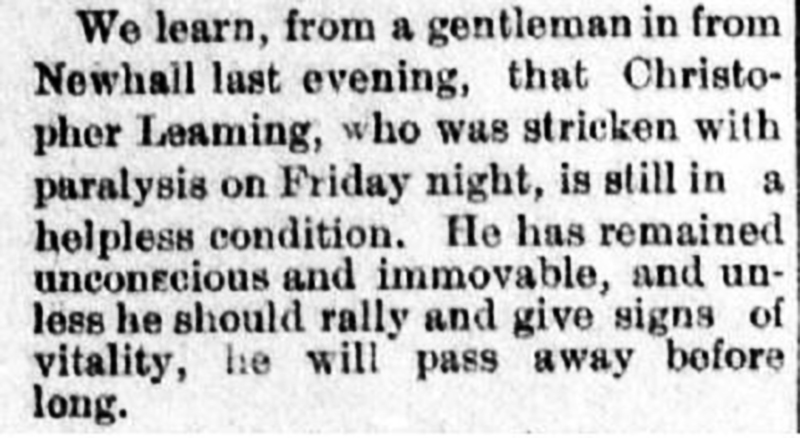 Click to enlarge.
[Brief.]
Los Angeles Herald | Tuesday, May 1, 1888.
We learn, from a gentleman in from Newhall last evening, that Christopher Leaming, who was stricken with paralysis on Friday night, is still in a helpless condition. He has remained unconscious and immovable, and unless he should rally and give signs of vitality, he will pass away before long.
---


Click to enlarge.
[Brief.]
Los Angeles Times | Friday, May 11, 1888.
Christopher Leaming, an old pioneer oil man, died suddenly at Newhall Wednesday. The remains were brought to this city, and will be shipped to his old home back East. He was 58 years of age and came to California in '49.
---


Click to enlarge.
[Brief.]
Los Angeles Herald | Saturday, May 12, 1888.
The death of Christopher Leaming at Newhall again contracts the circle of old Californians and early residents of this section of the State. Mr. Leaming was among the first, if not the first, to discover and appreciate the value of the great oil district of San Fernando. When oil was first struck in the Pico cañon, and attention was attracted to this promising source of wealth, the district was laid off, and he was elected Recorder of it. He continued to hold this position down to the time of his death.
He was the undisputed authority upon all questions of location and history of oil claims in the district. His faith in the successful outcome of the district was unlimited, and he gave evidence of his sincerity in sticking to the oil belt for many long years before the attention of capital could be attracted to it. During those years he scrimped and scraped and starved and labored, with nothing to encourage him but his unyielding faith in the future.
At length the good time about which he had so long dreamed, had come. He was reaping the reward of his foresight, and getting so well fixed, in a worldly point of view, that he could retire on a competency, when the inexorable mower came along and cut him down. How often is this the history of the pioneer! and how sadly has it been exemplified in the case of this good and brave man. Peace go with him.