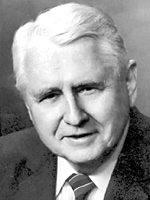 SAN LUIS OBISPO — Ed Davis, the former Los Angeles police chief and Republican state senator whose tough rhetoric during the turbulent 1970s made him popular with conservatives when he gave up law enforcement for politics in the 1980s, has died. He was 89.
Davis died of complications from pneumonia Saturday night at a hospital in San Luis Obispo, Calif., said family spokesman Rob Wilcox.
Davis had been hospitalized since his wife was unable to wake him at his home in Morro Bay on April 12, and his situation worsened Friday night, Wilcox said.
In a career that spanned more than 50 years in public service, Davis rose through the department ranks from street cop to chief, holding the top job from 1969 to 1978.
After retiring, Davis was elected in 1980 to his first of three terms in the California Senate, representing the Santa Clarita Valley from 1980 to 1992. He also made unsuccessful bids for governor and U.S. senator.
Clyde Smyth, former Santa Clarita city councilman and superintendent with the William S. Hart Union High School District, worked with Davis while at the district.
"He had a tremendous sense of humor and at the same time Ed Davis was the kind of guy that you could walk into his office without being announced and just sit down in a great big easy chair he had and talk to him about anything you wanted to talk about," Smyth said.
As a legislator, he earned a reputation as a moderate maverick, taking surprising positions for a man who decades before had been at odds with liberals, civil rights activists and anti-war protesters.
One of Davis' more locally recognizable achievements was the protection of the 3,000-acre Santa Clarita Woodlands State Park west of Interstate 5 and south of the Sunset Pointe housing community.
Santa Clarita Mayor Laurene Weste said she worked with Davis, also a Santa Clarita resident, on the matter in the 1980s and credited his leadership, calling it "probably the most critical impact that he could have made" on the Santa Clarita Valley.
"Ed gave us a great gift," Weste said.
Perhaps the most well-remembered of his controversial statements as police chief came in 1972 when he suggested reinstating the death penalty, then illegal in California, to punish airline hijackers.
"I recommend we have a portable gallows, and after we have the death penalty back in, we conduct a rapid trial for a hijacker out there and hang him with due process out there at the airport," said Davis. It was a proposal that earned him the nickname "Hang 'Em High Ed."
Still, other critics called him "Crazy Ed," and the chief became so incensed by news coverage that he once publicly canceled his subscription to The Los Angeles Times.
He led the LAPD through some of the most high-profile and shocking cases of the 1960s and '70s, announcing on Dec. 1, 1969, the arrest of Charles Manson. He also led the department during the fiery, televised gun battle with members of the Symbionese Liberation Army in 1974.
Despite his controversies, Davis was popular with many Los Angeles residents. During his tenure as chief, crime in the nation's second-largest city decreased while it increased nationwide.
Davis was credited with numerous police innovations, including creating the department's Neighborhood Watch program encouraging community policing.
As a legislator, Davis represented the 19th district, which included Santa Clarita, Thousand Oaks, Simi Valley and the northern San Fernando Valley.
Valencia lawyer Hunt Braly was Davis' chief of staff for almost all of Davis' time in the Senate.
He credits Davis with an instrumental role for the Santa Clarita area's quest for cityhood in the late 1980s. Davis carried legislation to reform the Local Agency Formation Commission for Los Angeles County relating to the economic viability of Santa Clarita's incorporation, Braly said, and held a press conference to highlight the developer forces that he said were spending about $350,000 opposing cityhood.
Braly recalled his interview with Davis to become his chief of staff.
"His last question to me was whether or not I wanted to run for public office," Braly said, "and I gave some political answer, not really saying anything, and before I got any more words out, he leaned in his big chair, and said to his assistant, 'Isn't it true that every lawyer wants to be president or chief justice of the Supreme Court?' And I said to myself 'This is a real guy,'" Braly said.
In 1984, Davis turned heads by voting for a bill that prohibited employment discrimination based on sexual orientation.
After winning a second term, Davis launched a bid for the U.S. Senate in 1986 but was entangled in controversy when an opponent was indicted for allegedly offering Davis' campaign $100,000 to drop out of the Republican primary.
The charges were dropped, but Democratic incumbent Alan Cranston went on to win re-election.
After retiring in 1992, he moved to Morro Bay with his second wife, Bobbie Trueblood, who worked as his Senate deputy.
That same year, the Los Angeles riots turned Davis into a vocal critic of his former department.
He called on his successor, Daryl Gates, to resign and later recommended police chiefs be limited to two five-year terms. The recommendation was subsequently adopted.
Davis was survived by his wife, his children Michael Davis, Christine Coey and Mary Ellen Burde, and four stepchildren.
Funeral plans were pending.