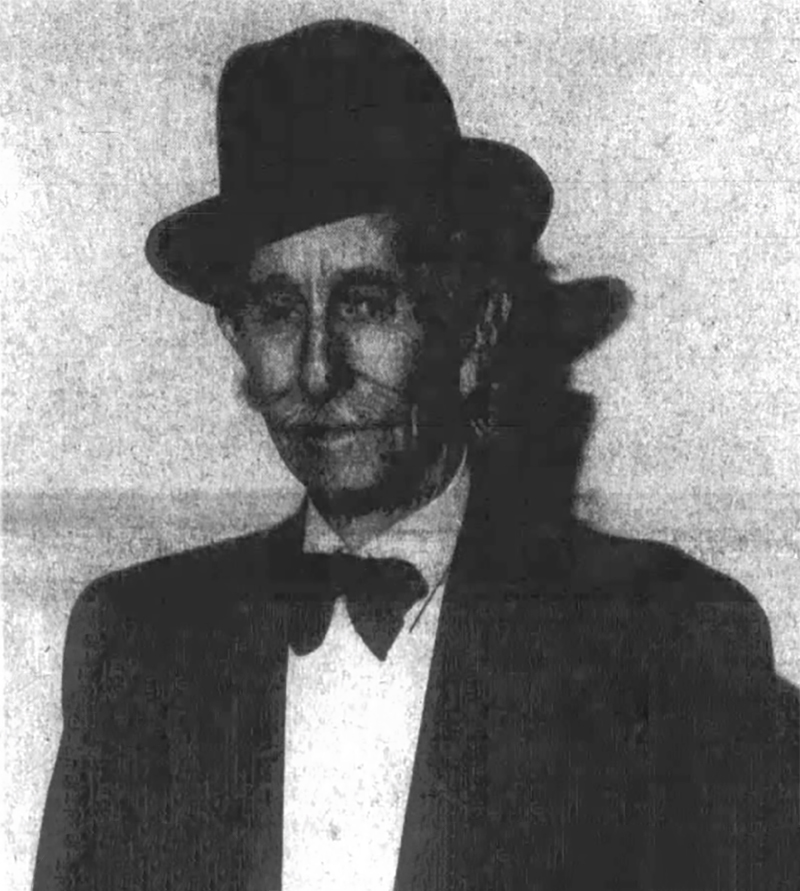 [Wednesday, January 26, 1983] — William Lloyd Houghton, the Santa Clarita Valley's "grand old man," died suddenly and peacefully Saturday morning in his Newhall home.
The man whom everyone knew as "Lloyd" would have been 90 years old on April 11. He had lived in and been associated with this valley since his discharge from the Army after World War I, in 1919.
Funeral services will be held at 7:30 tonight (Wednesday) at Hilburn's chapel, at the corner of Eighth and Walnut streets, in Newhall. Interment will be private.
Mr. Houghton was a lifelong devotee of art and music, and had earned his living as a commercial artist in the years between the two World Wars.
Born in Kansas in 1893, Mr. Houghton left home at 14 and worked at a variety of jobs in New Mexico near the border in the Pancho Villa days. When his family moved to Los Angeles in 1914 he joined them, and worked in his father's drugstore in downtown Los Angeles until the more glamorous surroundings of the Venice Pier, then an amusement park, drew him there. He worked as a barker and an artist, painting Indians and rustic scenes on leather and selling them to the tourists.
In World War I he became a sergeant, and as a staff adjutant found his artistic talents useful both in creating camouflage and in painting pictures of French villages to help determine artillery targets.
When he returned to Southern California in 1919, he found that his father had purchased the Newhall Pharmacy, then, as now. on the corner of Market Street and San Fernando Road. He worked in the pharmacy, and married his first wife, Opal Mayhue. They moved into what is now known as the Old Courthouse at Market Street and Railroad Avenue, where his only daughter, now Betty Houghton Pember, was born.
When Mr. Houghton decided to convert the building into a dance hall and meeting room, he gave the small community (the entire Santa Clarita Valley then counted about 2,500 people) its first gathering place. On summer weekends Mr. Houghton there operated the Hap-a-lan dance hall, for which he hired jazz bands from Los Angeles, an early chapter in his long history of jazz appreciation. The car he recently had been driving around the valley has "HAPALAN" on its license plates.
Mr. Houghton turned to commercial art and billboard painting in the 1920s and 1930s, and became a partner in an advertising agency. After a divorce from his first wife he married Vera Pleasant Young of Newhall in 1942, and with her owned and managed general merchandise stores in Ventura County.
He had bought land and built a home in Newhall's Happy Valley area in 1933, and continued to live there. As the area was subdivided, the street in front of his house was named Lloyd Houghton Place.
In World War II he was rejected for Army service because of age, but joined to patrol the Los Angeles aqueduct. As he got older he worked for local retailers and the Saugus School, and designed and painted scenery for Little Theatre productions.
He was proud of being a charter member, not only of such staid local organizations as the Newhall-Saugus American Legion, the Kiwanis, and the SCV Historical Society, but also of the Los Angeles Playboy Club, which he recently visited to hear outstanding jazz musicians.
Mr. Houghton was a welcome guest at civic events and at Christmas parties. He did not permit his increasing frailty to stop his social life.
His wife died in 1976; he is survived by his daughter Betty Pember and eight nieces and nephews.
---
Click image to enlarge.