Wednesday, June 8, 1955 — From the back of Rex, his pinto, trick roper Montie Montana ropes a young woman in the lobby of the Oregonian newspaper building in Portland.
Montie had just arrived in Portland where he was to serve as grand marshal of the Hollywood Boosters Floral Parade on Saturday the 11th, and of a junior parade the day prior. (Hollywood is the name of a business district in Portland.)
Photo by Oregonian staff photographer Rollie Dobson. 7x8½-inch print apparently from the Oregonian newspaper archive. Printed caption reads:
Horse play in the lobby. Montie Montana and his horse put on good show on several floors of Oregonian building, expertly roping in some of the girls.
After he famously roped President Dwight D. Eisenhower during his 1953 inaugural parade, everybody wanted to be roped by Montie, who often rode Rex into buildings to the delight of fans.
---
About Montie Montana
Biography by Marliee Montana in Butterfields 2000:
Born Owen H. Mickel, Montie (June 10, 1910 - May 20, 1998) traveled with his dad, E.O. [Edgar Owen] Mickel, and mother [Mary Edna Harlan Mickel]. Billed as the Montana Cowboys, they did whip and rope acts and put on a slide show about the American West.
In 1929 while working the Buck Jones Wild West Show, the announcer could not remember his name, so he announced him as Montie from Montana, and as Montie tells us in his autobiography, "the crowd loved it and so did I." From then on he became known as Montie Montana.
As a star of silver screen, stage and rodeo arena, Montie entertained audiences around the world for more than 70 years. He rode in 60 consecutive Rose Parades and is famous for roping President Eisenhower in the 1953 Inaugural Parade. From 1945 to 1965 Montie thrilled over 8 million school children with his stagecoach and horse, Rex.
Montie was famous for riding his horses into equally famous places such as the top of the Empire State Building, the Beverly Wilshire hotel in Beverly Hills, the Brown Palace in Denver, the Broadmoor in Colorado Springs and top-level government offices across the country.
Though he received hundreds of awards and honors during his extraordinary lifetime, he remained a cowboy at heart. Montie was deeply grateful that he could make a living doing what he loved best — and it showed. He had the most wonderful laugh and was always smiling.
An avid collector of Western artifacts, he kept treasures from early on in his career and enjoyed them throughout his life. His legacy will live on with the stories captured in this autobiography where he tells us that he lived in a great era, from the horse and buggy to the space age.
Although he has ridden on ahead, I know that he's in tall cotton with other great Western heroes up there and that his horses are knee deep in green pastures and that he's still a cowboy, because he always said, "I must have been born a cowboy because I've never thought of being anything else."
Further reading: Read more about Montie Montana here.
---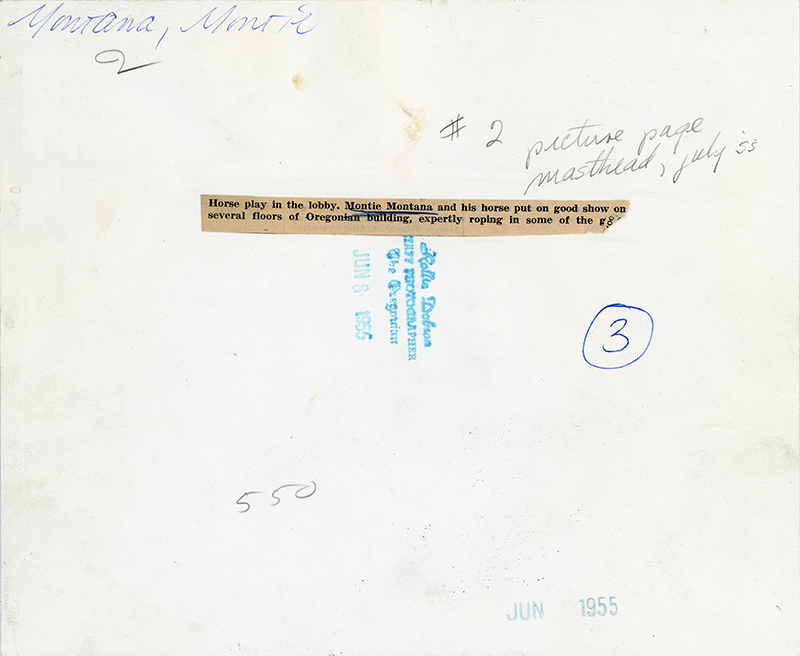 Click image to enlarge | Download archival scan
LW3553: 9600 dpi jpeg from original photograph purchased 2019 by Leon Worden.