Friday, February 28, 2020 — A press conference honors the public-private partnership of Valencia developer FivePoint and the City of Santa Clarita to cover the cost of a new, historic-looking metal roof for the Newhall Ranch House at Heritage Junction Historic Park. It's the first step toward the full restoration of the building, which once served as the local headquarters of The Newhall Land and Farming Company.
The event included the presentation of a $25,000 check from FivePoint to the Santa Clarita Valley Historical Society, matching the city's contribution to the project.
Video: SCVTV | Photos: City of Santa Clarita
---
---
City, FivePoint Celebrate Heritage Junction Restoration
The Signal | Friday, February 28, 2020
Future generations can count on Heritage Junction in Old Town Newhall offering visitors a look at the past for decades to come, as the city of Santa Clarita and FivePoint announced Friday a joint effort to restore the historical locale.
The organizations celebrated with a ceremony using the Newhall Ranch House as their backdrop, a partnership supporting the SCV Historical Society's revamping of the park, which is home to several sites, such as the Saugus Train Station Museum and the Kingsbury House.
Friday's event centered around the Newhall Ranch House, which is the next in line for restoration, and will be made possible with $25,000 from the city and a matching donation from FivePoint, officials said.
"Even as we help define the future of the Santa Clarita Valley, we never want to forget the past and those who were essential to creating this community that today is one of the most desirable in California," said FivePoint Community President Don Kimball, in a statement. He presented the $25,000 check to the city at the event. "Preserving our history is important so future generations will appreciate what makes this valley special. FivePoint is proud to contribute to this initiative."
The 4,000-square-foot Newhall Ranch House is a two-story Victorian home with a gabled roof that served as the headquarters of the Newhall Land and Farming Co., which is now known as FivePoint. It originally stood in what is now as Six Flags Magic Mountain's parking lot and was moved to Heritage Junction in 1990 with a grant from the city, according to the Historical Society.
"And today you're looking at a structure that is one of the last and best in L.A. County of its type," said Santa Clarita Councilwoman Laurene Weste, who is also a Historical Society board member. "It deserves to be honored. It needs to be restored properly, and we're starting with the most important part, which is its hat, its roof — and it is not an easy task."
The goal is to fortify the structures that make up the Heritage Junction, which Mayor Cameron Smyth described as "an active time capsule," so that many more families can have an opportunity to take a step back in time.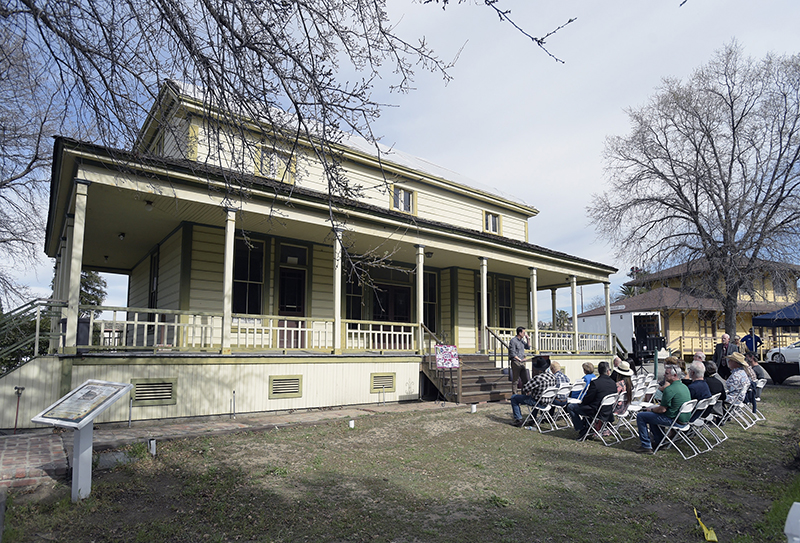 City of Santa Clarita Mayor Cameron Smyth speaks in front of the Newhall Ranch House during a event celebrating the public and private support of the Santa Clarita Valley Historical Society's restoration efforts at Heritage Junction at which a $25,000 check was presented from Don Kimball, Community President of FivePoint on Friday, February 28, 2020. Photo: Dan Watson/the Signal. Click to enlarge.
---
Remarks at Press Conference.
As prepared for delivery.
Hello and thank you for joining us at the Heritage Junction section of William S. Hart Regional County Park. I'm Leon Worden, Vice President of the Santa Clarita Valley Historical Society. Our president, Alan Pollack, regrets that he couldn't be here; he's a medical doctor, and he was scheduled to treat patients today.
As you come into Heritage Junction you might not notice that the Pardee House — the first house as you enter — and the four historic buildings up the road have new metal roofs. And that's kind of the point. They blend in. You're not supposed to notice them. We've had construction trades people come through here who've been amazed at how a metal roof can be made to look authentic.
We wouldn't have been able to do it without the support of the City of Santa Clarita. Especially in the last few years under City Manager Ken Striplin, Assistant City Manager Frank Oviedo and a City Council made up of five long-time residents of our community, the city has shown — in too many ways to mention here — that it shares the Historical Society's goal of "preserving the best of our past for the benefit of the future."
Now we turn to the Newhall Ranch House. It's a big, 4,000-square-foot building. It's next in line for renovation. It's going to be a big job. For nearly a century this building was the headquarters of The Newhall Land and Farming Company's local Santa Clarita Valley operations. It actually started out smaller and grew to this size around 1895. It originally stood in what's now a Magic Mountain parking lot. When fully restored, it will stand as a testament to the transformation of the Valencia area from farmland into a truly awesome town where young families have come home, and grown, and prospered.
For what it's worth, my parents moved me to Valencia 50 years ago this year. I grew up in Valencia. Those of us who've been around that long remember how Newhall Land was always a big participant — both financially and in human capital — in dozens of nonprofits that came along to serve a growing community's growing social service needs.
In 1990, it was a partnership of Newhall Land and the brand-new City of Santa Clarita that saved this historic Newhall Ranch House from demolition. Newhall Land donated the building, the city contributed funds to move it here, Supervisor Mike Antonovich and the County Parks Department cleared the way, and Kathryn Barger — well, that was 30 years ago. Kathryn Barger was a college intern in Supervisor Antonovich's office. Now she is our wonderful county supervisor and a longtime lover of Hart Park.
Thirty years later, it is once again a partnership of the City of Santa Clarita and Newhall Land's parent company, FivePoint, that's kicking off the full-blown restoration of this house, by providing funds for a new, 100-year metal roof. It all starts with a good roof.
I want to point out, this is not a one-off for FivePoint, by any stretch. FivePoint has continued the legacy of community involvement that Newhall Land set out before it. You might know of FivePoint's commitment to bolstering our community's economic vitality through its leadership on the boards of the local Chamber of Commerce and Economic Development Corporation. What you might not know is that FivePoint is also mindful of our local traditions. FivePoint's Valencia operations are run by people who live in our community, and they've established an important partnership with our local Indian tribe, the Fernandeno-Tataviam Band of Mission Indians, to preserve our valley's indigenous cultural heritage — particularly on FivePoint's Valencia expansion property that's now under construction. FivePoint has set a high bar in that regard, and frankly, it's a model all developers would do well to emulate.
With that, I'd like to call up the Historical Society board member who's been ramrodding these restoration projects, City Council Member Laurene Weste.
---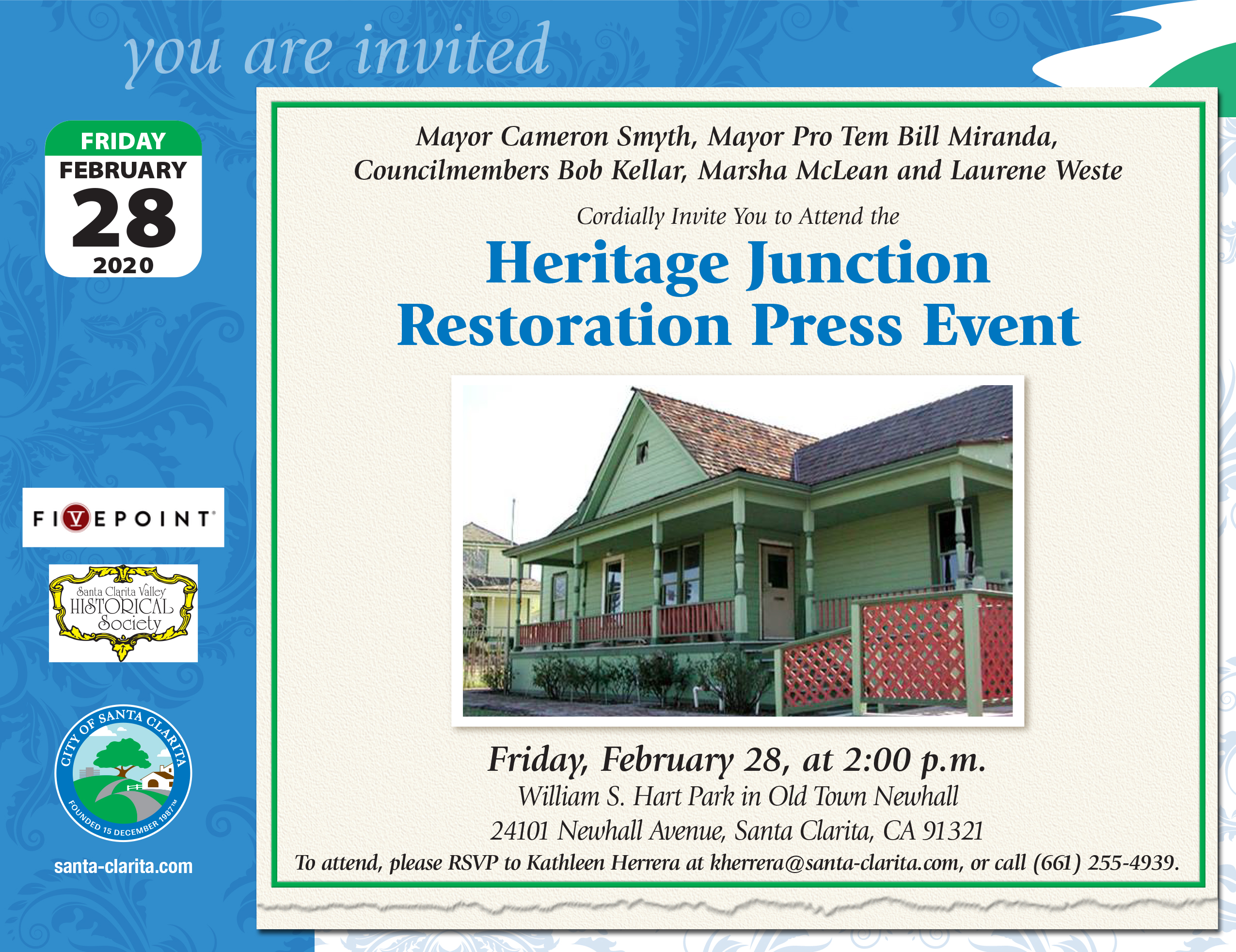 Photo gallery: Download original images
here
.