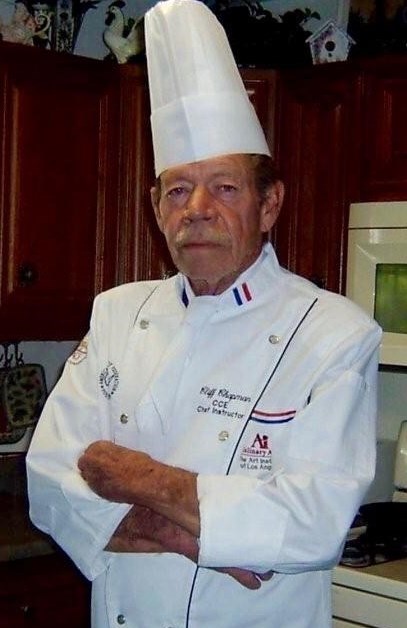 Clifford Houston Chapman, age 80, loving husband, father, grandfather and great grandfather, went to be with the Lord Friday, February 5, 2016. The only child of Clifford and Vera Chapman, he was born in El Paso, Texas on October 6, 1935.
After courting for seven days, Cliff married a woman who he would spend the rest of his life with, Judy. In the sixty years they were married their focus and joy was their family, which is evidenced by their love for their children, grandchildren and great grandchildren.
Cliff proudly served the U.S. Navy for twenty-five years, preparing meals that had a positive effect on the crew's morale. He took those skills, became a Certified Culinary Educator with the American Culinary Federation, and passed them on to future chefs. He taught at several culinary educational institutions, inspiring and touching lives with every meal. His career as a culinary educator exceeded forty years.
Due to his passion for music, Cliff also had a career as a DJ, beginning in 1953 in the armed forces. In the 1960s working for KCBN in Fallon, NV, presenting the Big 30, his moniker was Cliff Shannon. In his twenty years as a DJ he also voiced commercials.
Cliff's family values and strong work ethic were imbedded in his children and grand children, and there is no doubt these admirable qualities will be passed on to his great grandchildren as well.
Cliff was the beloved husband of Judy Chapman (Canyon Country, CA), devoted father of Laurie Macy (preceded in death), Clifford Chapman and his wife Rowena (Orcutt, CA), Candace Chapman (Canyon Country, CA), and Leah Harper and her husband Ray (Van Nuys, CA), devoted grandfather of Clifford Chapman (San Angelo, TX), Krystie Chapman (Nashua, NH), Corey Chapman (San Diego, CA) and Justin Chapman (Canyon Country, CA), devoted great grandfather of Hunter, Clara Mae and Bethany.
Funeral services are scheduled for Thursday, February 11, 2016 at 1:00 PM.