Beale's Cut
Newhall, California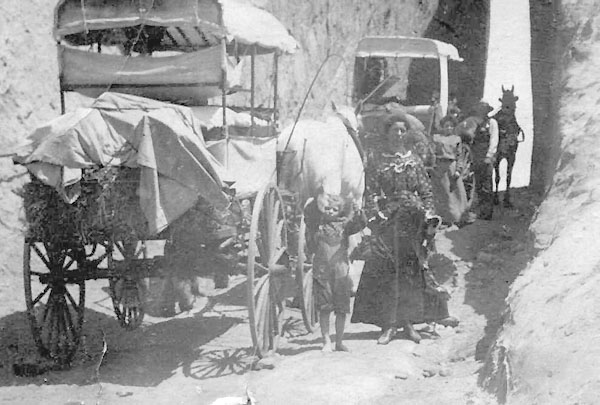 The wedding party of Albert Edwin Nicholls, Sr., then-owner of Nicholls-Loomis Feed & Grain Mill at 12th Street and San Pedro in Los Angeles, and his bride, Mable Gleason Cunningham (DAR), travel through Beale's Cut in 1903 on their way to a northern California honeymoon. Grandson Ed Nicholls writes: "Their progression was from farming in Kane County, Illinois, to Placerville, Calif. (Hang Town) circa 1860-'70, hence to Los Angeles and then to Blythe, Calif., where 'Nicholls War Springs' was created and somewhat lost in the struggle."

Photo provided by CWO Ed Nicholls (SAR), USMC / U.S. Army (AUS) Ret., of Kendalia, Texas — grandson of Albert E. and Mable Nicholls.

Click here for a different view of the same photograph.